Introducing Qimage Ultimate 2023 (25th Anniversary Edition)
RIP-like results on any printer, starting at $89.99!

Qimage is the best photo printing software on the market, offering the ultimate combination of high-quality prints and easy-to-use features. With Qimage Ultimate, you can print multiple photos at once with stunning, professional-grade results, thanks to our advanced algorithms and image processing technology. And because Qimage is packed with a wide range of powerful tools and features, you can do anything you can imagine with your photos, from creating custom photo books and albums to multi panel prints that cover a wall. Whether you're a professional photographer or just someone who loves to take photos, Qimage is the perfect choice for anyone who wants the best in photo printing software.
Latest Features...
Driver AI


Introducing "Driver AI" - the revolutionary new software feature that automatically optimizes your Canon/Epson printer driver settings for the perfect print every time. Simply select your printer, media type, profile, and other settings directly in Qimage and our advanced AI technology takes care of the rest. Ensure your prints are always of the highest quality without even opening the printer driver.
See the video
Multi Panel Printing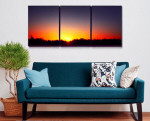 Tired of trying to fit your favorite images onto standard size sheets? Want to create a multi panel print for the office? Our new multi panel printing feature allows you to print large, high-quality posters by splitting a single image into multiple panels. Say goodbye to pixelated, low-resolution prints and hello to stunning, professional-grade posters that will make a statement in any room. Watch the video or try it out today and see the difference for yourself!
Quality
No matter what software you use to print your photos, the end result is what matters. You want to be sure the final prints are of the highest quality possible. With Qimage Ultimate, you get over 25 years of cutting edge research and development that delivers pixel perfect photos with unrivaled sharpness and color fidelity regardless of photo resolution or final print size. Don't trust this important task to tools that were not designed specifically for photo printing!
Simplicity
We believe that industry leading quality should not come at a price, namely your time. You need software that will allow you to simply select photos and varying print sizes and the software should be intelligent enough to nest those sizes automatically, even if you change print sizes on the fly; clicking and dragging should only be necessary when customizing the layout. You need software that can intelligently apply halo-free sharpening and maintain that sharpening whether you print small or large prints. You need software that can automatically control your printer driver's color management whether you let the printer manage color or you use a profile.
You need Qimage Ultimate!
Features
Qimage Ultimate offers features that go beyond even those found in the most expensive RIP software. While we've made quality photo printing simple, as your photo printing needs expand, we have you covered. You'll find an incredible array of features should you need them: features like soft proofing, job saving and logging, crop marks, canvas shrink compensation, floating text, raw photo developing tools, photo editing, image databasing, and more. Chances are, if you find the need for something in your photo printing endeavors, Qimage Ultimate can probably do it! Check out the sidebar for just some of our most popular features.
Price
Starting at $89.99, Qimage Ultimate can deliver quality and features that are unmatched in the photo printing industry. Before spending as much as the cost of a wide format printer on RIP software or just clicking print in your image organizing or editing software and hoping for the best, guarantee the best quality available:
give Qimage Ultimate a try!